Uptime Institute Intelligence
Uptime Institute Intelligence se dedica a identificar, analizar y explicar con claridad las tendencias, tecnología y cambios en los negocios de la industria de infraestructura de misión crítica, de modo que nuestros clientes puedan tomar decisiones bien informadas y pensadas, explorar nuevas oportunidades y disminuir su exposición al riesgo.

Valiéndose de conocimientos técnicos y experiencia en investigación de más de 25 años, además de una red global de clientes, socios y asociados, nuestro equipo puede examinar el diseño, la operación, las variables económicas de la infraestructura de misión crítica, la promesa de innovación transformadora y las realidades prácticas de la administración cotidiana.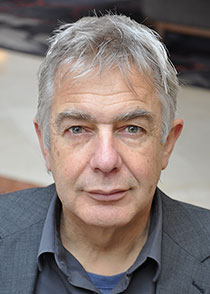 "Ayudamos a nuestros clientes a resolver problemas de gran magnitud con nuestros conocimientos profundos de infraestructura crítica e infraestructura de TI. El Uptime Institute ha brindado ayuda práctica y estratégica a clientes durante más de 25 años, sin tendencias motivaciones o contrapuestas. Nuestra red de analistas y asesores puede valerse tanto de sus propios conocimientos profundos, como de las experiencias colectivas de nuestra enorme base de clientes; podemos poner todos estos conocimientos especializados a trabajar de manera muy eficaz y rápida".
Andy Lawrence, director ejecutivo de Investigación, Uptime Institute
Comuníquese con nosotros
¿Tiene preguntas o necesita ayuda? Complete el formulario de contacto a continuación y nos comunicaremos con usted a la brevedad.
Cómo acceder a nuestra inteligencia
La Uptime Institute Intelligence entrega contenido a través de gran cantidad de canales, los que incluyen acceso total a toda nuestra investigación por parte de los miembros de Uptime Institute, acceso limitado a los suscriptores de Inside Track de Uptime Institute, así como acceso a investigación y presentaciones a medida para clientes corporativos.
Membresía de Uptime Institute
Investigación a medida
Uptime Institute Intelligence ofrece investigación a medida, presentaciones e informes a clientes corporativos previa solicitud.
Solicitar investigación a medida
Si se encarga del funcionamiento o administra infraestructura de importancia crítica, la mejor forma de acceder al material de Uptime Institute Intelligence en todas sus formas es incorporarse a la membresía global de Uptime Institute Network, incluida su comunidad en línea Inside Track que le entrega acceso directo a nuestro equipo de analistas.
Le presentamos al equipo de analistas
El Uptime Institute Intelligence es posible gracias a la unión de los asesores en centros de datos con más experiencia del Uptime Institute con el equipo de analistas del Uptime Institute Intelligence. Esta iniciativa combinada de perspectivas de análisis con la perspectiva de campo aporta una comprensión única a tecnología vanguardista de centros de datos, tendencias en eficiencia y optimización de TI, aplicación eficaz de mejores prácticas de centros de datos en instalaciones y administración, y las mejores prácticas para impulsar resiliencia de TI en las capas del negocio, la aplicación, la red y física.
Daniel Bizo serves as Research Director at Uptime Institute. Over the past 15 years, he has covered the business and technology of enterprise IT and infrastructure in various roles, the past ten years as an industry analyst and advisor. His research includes sustainability, operations, and energy efficiency within the data center, on topics like emerging battery technologies, thermal operation guidelines, and processor chip technology.
Daniel Bizo
Director de Investigación
Chris Brown serves as Chief Technical Officer of Uptime Institute. Brown currently oversees the organization's global team of data center consultants and experts. Cuenta con más de dos décadas de experiencia en instalaciones críticas, que incluye las áreas técnicas de planificación de capacidad, acondicionamiento, diseño de nuevas instalaciones y el liderazgo de equipos de Management and Operations.
Chris Brown
Director técnico
Jacqueline Davis is a Research Analyst at Uptime Institute covering global trends and technologies that underpin critical digital infrastructure. Su experiencia incluye supervisión medioambiental e interpretación de datos en los campos de cumplimiento medioambiental y salud y seguridad.
Jacqueline Davis
Research Analyst
Jay Dietrich is the Research Director of Sustainability at Uptime Institute. Dietrich looks beyond the hype to analyze the transformations required in energy and IT systems, data centers and software management systems, and intra-organizational collaboration, both within and between companies, to deliver sustainable data center operations.
Jay Dietrich
Director de investigación de sustentabilidad
Douglas Donnellan is a Research Associate at Uptime Institute covering sustainability in data centers. His background includes environmental research and communications, with a strong focus on education.
Douglas Donnellan
Asociada de investigación
Andy Lawrence is a founding member and the Executive Director of Research for Uptime Institute Intelligence, which analyzes and explains trends shaping the critical infrastructure industry. He has extensive experience analyzing developments in IT, emerging technologies, data centers and infrastructure, and advising companies on technical and business strategies.
Andy Lawrence
Director ejecutivo de Investigación
Dr. Tomas Rahkonen is the Research Director of Distributed Data Centers at Uptime Institute. Rahkonen has spent the last 25 years in positions within the telecommunications, mobile communications, and data center sectors globally, and most recently served as the CTO of Flexenclosure, where he managed the design and delivery of prefab data centers across four continents.
Dr. Tomas Rahkonen
Director de investigación de centros de datos distribuidos
Dr. Owen Rogers has been researching the economics of cloud for over a decade as a product manager, a PhD candidate and an industry analyst. Rogers covers all areas of cloud, including economics, sustainability, hybrid infrastructure, quantum computing and edge.
Dr. Owen Rogers
Research Director for Cloud Computing
Lenny Simon is a Senior Research Associate at Uptime Institute covering global trends, sustainability and technologies in critical digital infrastructure. His background includes analysis of green energy regulation and environmental policy.
Lenny Simon
Senior Research Associate
Max Smolaks is a Research Analyst at Uptime Institute Intelligence. Mr Smolaks' expertise spans digital infrastructure management software, power and cooling equipment, and regulations and standards. He has 10 years' experience as a technology journalist, reporting on innovation in IT and data center infrastructure.
Max Smolaks
Research Analyst
Informes de investigación publicados por el equipo
El Uptime Institute Intelligence publica diversos resultados de investigación. Los tres tipos principales de informes son los siguientes:

Informes de asesoramiento
Informes detallados y altamente confiables que sirven de guía exhaustiva para un tema, tecnología o tendencia en particular.
Informes de enfoque
Estos informes analizan un tema específico y por lo general son escritos por asesores globales, socios o asociados técnicos.
Informes de actualización
Estos breves informes sobre tendencias y tecnologías de la industria dan forma al cambiante panorama de TI y los centros de datos.
El Uptime Institute Intelligence también realiza investigación a la medida para clientes que lo solicitan, publica algunos videos, presenta webinars periódicos y organiza mesas redondas de debate dirigidas a gerentes de infraestructura crítica, de manera virtual y en las reuniones de la membresía de Uptime Institute.



Haga clic en cualquiera de los informes a continuación para acceder a una selección de investigación de cortesía, que puede descargar.
Agenda del Uptime Institute Intelligence
La agenda del Uptime Institute Intelligence se centra en tres áreas clave: Riesgo corporativo y gobernanza, planificación y operaciones de negocios, y selección de tecnología y estrategia.
Riesgo corporativo y gobernanza
Desafíos de administración de una nube híbrida
Apagones y resiliencia
Sostenibilidad corporativa
Seguridad y protección de la vida
Planificación y operaciones de negocios
Capacidad empresarial y tendencias presupuestarias
Métricas e indicadores clave del desempeño (KPI)
Personal y operaciones
Herramientas y software de administración
Selección de tecnología y estrategia
Construccion y diseño de centros de datos
Servidores y almacenamiento
Selección y administración de la nube y la colocación
Innovación transformadora
Uptime Institute es el asesor de confianza de la empresas líderes del mundo
Acxiom
Allinfnt Finance and Technology Development Co., Ltd.
Allstate
AT&T
Bayer U.S. LLC
The Boeing Company
BMO Financial Group
Bradesco
CGI
Chesapeake Energy
China Mobile
China Welfare Lottery
Colt Technology Services
Centros de datos Compass
Cyxtera
Datacampus
Datacampus
Deere & Company
Departamento de Asuntos de Veteranos
Depository Trust & Clearing Corporation
DFT
DigiPlex
Digital Realty Trust
DST Systems, Inc.
Entel S.A. Chile
Equinix do Brasil
e-shelter
FannieMae
Fastweb
Fidelity Investments
First Citizens Bank
Fujitsu Services Limited
Centro de datos Green Mountain
Highmark
Huawei
ING
Iron Mountain
Itau-Unibanco
JPMorgan Chase
Kaiser Permanente
LuxConnect
McKesson
Mentor Graphics
Mobily
Morgan Stanley
Nationwide
Bolsa de Valores de Nueva York
RagingWire Data Centers
RBC Financial Group
Sabey Data Center Properties
Saudi Aramco
Société Générale
SoftLayer Technologies, Inc.
Sun Life Financial
T5 Data Centers
Target
TD Bank
Thomson Reuters
Turk Telekom
UniCredit Group
United Airlines
United Parcel Service
UnitedHealth Group
US Bank
Verizon
Centros de datos de VIRTUS
Visa, Inc.
Wells Fargo
---