Como usted sabe, el panorama del centro de datos es altamente competitivo y está cambiando constantemente.
Invertir en la capacitación de Tier acreditada de Uptime Institute ayuda a aumentar la base de conocimientos de su equipo, mejorar la eficiencia operacional en su organización y reducir el riesgo empresarial al cumplir con las mejores prácticas en el diseño del centro de datos, gestión y operaciones.
We invite you to register for our upcoming accredited tier training courses in Copenhagen in agosto de 2017.
---
When: 22-24 agosto de 2017
Where: NNIT A/S Office, Østmarken 3 2860 Søborg, Denmark
---
Cursos incluidos en este evento: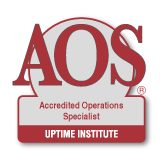 Accredited Operations Specialist (AOS)
Se dirige a los profesionales de operaciones y mantenimiento centrándose en las mejores prácticas de operaciones, personal y mantenimiento.
Mejor para:
Operadores fundamentales de las instalaciones
Gerentes de Operaciones Profesionales
Gerentes de Instalaciones de Centro de Datos
---
Unable to attend our Copenhagen session? Visite el Calendario del cursos de Uptime Institute para conocer otros cursos que se aproximan en su área.