A deep dive into the top 10 technologies disrupting the global data center market.
In this report, Uptime Institute Research describes, assesses, and scores 10 technologies that many in the industry believe could change the data center market, and disrupt the ways in which data centers are designed, built, or operated. Proponents of individual technologies promote these as being powerful agents of change, or even as revolutionary, disruptive forces within the data center sector. During the course of our research, we found this to be true for some technologies, and less so for others.
Key Findings in The Report:
A handful of technologies is likely to prove highly disruptive to the data center industry in the next few years, and which data center operators and suppliers should be watching closely, according to the aggregated opinions of more than 25 experts across the Uptime Institute and 451 Research, both part of The 451 Group, and the data center sector.


Several technologies identified here are likely to be adopted, causing economic and technical change in the process. Some of these could be combined to have a more significant impact.
Technologies Discussed in this Report:
Distributed resiliency
Chiller-free data centers
Micro-modular data centers
Storage-class memory
DMaaS (Datacenter Management as a Service)
Silicon photonics
Open source infrastructure
Software-defined power
Direct liquid cooling
Data center microgrids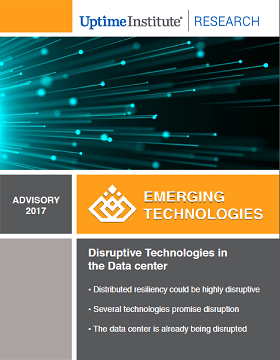 Download the Report
Fill out the contact form below to download the report.